Let's go on air!
Young, newly arrived migrants in Lyon, France, had the opportunity to make their voice heard on the radio as part of our Speak Up! Project during the Sens Interdits International Theater Festival.
Through Sens Interdits young reporter program, young people between 16 and 30 years old of all backgrounds are trained to various radio technics with the final aim to broadcast live interview on Sens Interdits radio station.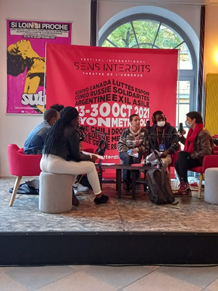 During the past few months, the trainees, half of them with a migration background and supported by Speak Up!, have closely worked with media experts by attending 25 hours of podcast training courses, 20 hours trainings inherent to the realization of an audio docudrama, and 15 hours of web radio training. The intense training culminated in the release of audio productions which were then broadcasted on the Sens Interdits Web radio channel during their Festival from 13 to 30 October 2021. Under the supervision of two media experts — Dalia Ferreira and Thamara Bryson–, the audio productions were the core part of "Media and Migration", and included interviews with artists from various countries such as Russia, Liban, or Kosovo.
On October 23, as part of its Speak Up! Media Festival, ERIM took part in a live session together with Kamara and Rose –two trainees– to discuss the importance of Media Information and Literacy through media productions workshops. They were also able to share their experience of the training, and what it brought to them. For Kamara, It s like therapy!